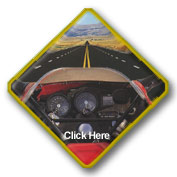 A Destination Highway is rarely a major highway and often not even a secondary one. It's the kind of road you'd travel to, to journey on — it is the destination. And Destination Highways Washington is the most comprehensive guidebook ever produced for the motorcycle enthusiast touring Washington State motorcycle roads.

Using TIRES, or the Total Integrated Road Evaluation System, paved roads are rated from a street motorcyclist's unique perspective. TIRES identifies and evaluates elements — some obvious, some not — that together determine if a road is good enough to be called a Destination Highway.

In technically evaluating a road, TIRES counts and categorizes every curve for Twistiness, classifies every mile (1.6 km) of a road's surface for Pavement, and assesses lane width, shoulder width, sightlines and camber for Engineering. It also rates Scenery and Remoteness according to specific criteria. A road's Character is determined by how the other five components blend together, reflecting the overall quality of the riding experience — that "feeling" you only get aboard a bike on a good road. You know the one.

A higher number of points are assigned to those TIRES components that more directly result in a better motorcycle road. The total number of points determines a road's TIRES rating out of 100. With this, the road earns its DH number — its ranking among Washington's 74 Destination Highways.



While the total rating of every Destination Highway shows how one DH compares to another overall, that isn't always enough. Two roads with close, or even identical total ratings, may offer entirely different experiences. That's why TIRES goes further, providing a detailed breakdown invaluable for riders who prefer a specific type of road. Do you seek twistiness above all? Is it that remote, biking experience you prefer? Are you a stickler for smooth pavement? TIRES helps you find the roads you like, according to what you like.

However, even TIRES doesn't tell the whole story. The numeric ratings are complemented by written descriptions of the unique riding adventure each Destination Highway offers. At A Glance gives you a short summary of the DH's most noteworthy features. With this one paragraph and TIRES, a rider can quickly decide whether it's their kind of road. Access describes how to get there. For those who want more detail, On The Road provides an in-depth, corner-by-corner chronicle.

What about roads that aren't worth "traveling to, to journey on" but are worth checking out if you happen to be in the neighbourhood? In addition to the 74 Destination Highways, DHWA guides you to 272 Twisted Edges. Described in a single paragraph, TEs may be quiet, bypass routes that offer alternatives to major highways, access roads to out-of-the-way lakes, parks or tourist attractions, links to other DHs or TEs or simply winding dead-enders that gravel out in the middle of nowhere. Twisted Edges are labeled by reference to a nearby DH. Greater Seattle and Spokane Area TEs are denoted by the prefixes SEA and SPO.

Washington has been subdivided into nine regions, each with seven to ten Destination Highways. Regional maps show how all the good roads in a given area fit together while the individual maps for each DH (and affiliated TEs) zero in on specific rides. Before you enter a region, you can quickly make choices and ensure that you won't miss any roads that appeal to you.

Of course, there's more to motorcycling than smooth, twisty, traffic-free roads. Both you and your machine need fuel and maintenance. And these can be a hassle to find, especially in more remote parts of the state. Perhaps you're in immediate need of a gas station, grocery store or nearest pub. Maybe you just like to plan ahead for a nice restaurant meal, hotel or campground. And how are you going to find a bike shop that can change your oil or replace the tire that's going to be worn out in two days? DHWA answers the call, providing indispensable service information on convenient, easy-to-use LO-LITE maps. Weather-resistant and sized to fit a standard tank bag map window, the book is designed to help you spend more of your precious road time in the saddle.
For the price of a few of tanks of gas, DHWA gives you the kind of local knowledge normally acquired only after riding in an area for years. Even if you've never ridden here before, Destination Highways Washington makes you a "local" throughout the entire state, helping you to find and enjoy your favorite Destination Highway.

.